This has been my first Madness day and WOW has it been great!!! Somewhere in Nevada 2 was awesome as hell, the Madness day 2021 stream was great to watch (my animation got shown on there :D) and you all were very kind about my first movie on ng (':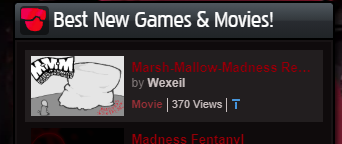 It got to the first spot on best new games & movies aswell!! I don't know if the position means anything (probably not I don't think it does idk tho lololol) but it was still really really cool and really really surreal to see my animation and art and name up on the Newgrounds home page.. It's now at 512 views and I couldn't be happier. Wish i could put in words how much it all means to me besides just saying thank you. I don't think I can even properly process it fully. But i do mean every thank you i say. From the bottom of my heart. (o:
This sc is a few hours old now. It's now at 513 views which is very.. insane to me??????! That's unreal. That is really unreal. That's too many people. Way too many.. But i appreciate em all. You are all way too kind :'D
That's enough bout my animation though .. i hope YOU ALL had a great madness day aswell!!! Everyone on the madness day 2021 stream had such great art and lovely animation, that stuff really blew me away. I'll probably go through art + movies + games + audio myself later on cuz you people are talented to hell and beyond it's astounding.. once again I hope you all had a fantastic Madness day and have a lovely 23rd aswell.
also go wishlist madness project nexus on steam now please it comes out in 6-7 days depending
https://store.steampowered.com/app/488860/MADNESS_Project_Nexus/
dont know how you couldve not heard it but listen to somewhere in nevada 2 aswell cuz i mentioned it why not link it. Then listen to somewhere in nevada 1. And then listen to them both at the same time and then sit in silence for 12 hours thinking about somewhere in nevada 1 and 2
https://www.youtube.com/watch?v=-cJTfiS83b0
ALSOedit Thank you for 76 followers :D!!! I very much appreciate it